Our History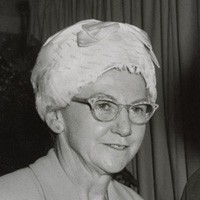 Photograph of Miss Edith Hughes-Jones reproduced with permission of the Herald & Weekly Times Pty Limited.
Miss Edith Hughes-Jones (1905-1976) was a nurse ahead of her time, who in 1938 became matron and owner of Windermere Hospital in Prahran (The photo above is the roofline of the hospital.).
By the early 1970s Miss Hughes-Jones had developed Windermere into a reputable and prosperous private hospital.  This gave her the idea to establish a perpetual charitable foundation and so Windermere Hospital Foundation Limited (now known as Windermere Foundation) was born.  The hospital business and assets were accordingly assigned to the Foundation with a view that income derived from the hospital be used for the purpose of making grants in line with her social objectives.
After the hospital was sold in 1998, the proceeds of the sale were invested, and are today managed by the Governors of Windermere Foundation Limited who strive to continue Miss Edith Hughes- Jones' legacy.
Objectives and Values
The income and capital of the Foundation are to be used for:
religious, charitable and public education purposes in Victoria;
the purpose or use of any hospital not conducted for profit;
any benevolent institution or public benevolent society in Victoria; and
the relief of persons in necessitous circumstances in Victoria;
as may be determined by the Governors.
The Foundation tends to support research and social programs that may not otherwise attract funding from government and more mainstream funding institutions.
The Foundation also sees itself having a role in providing seed funding which may provide a platform for obtaining subsequent substantial financial support.
Other Information
Occasionally other projects may be sourced by the Governors and financed.
Mary Patten Special Grant / Doctoral Scholarship

Miss Mary Patten served as a Governor of the Foundation from September 1990, until her resignation due to illness in early 2004. She died later that year.

In recognition of her contribution and years of service to the Foundation, when Grants or Doctoral Scholarships are offered they will be awarded the Doctoral Scholarship title, "Mary Patten Special Grant".

The Mary Patten Special Grant will be the Grant/Doctoral Scholarship that stands out from the other successful ones awarded for that year.